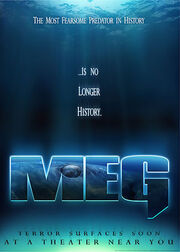 The Meg film currently has no concrete or projected release date, but per Steve Alten it will be timed to coincide with the release of Meg: Night Stalkers. The movie has been in development hell since 1997. It has been said by the author that the production costs are being finalized and directors are being contacted. It is based on the first book, Meg: A Novel of Deep Terror.
Development
Edit
A film based on the novel has been mired in development hell since 1997. At one point, reports surfaced that the film was slated for a 2008 release date and was to be made by New Line Cinema which had recently bought the rights from Alten. Names that were attached to the project included Jan De Bont and Guillermo Del Toro. However, in July 2007, New Line cancelled the production. Steve Alten had said that once his relationship with New Line was finally over, he would be taking the property elsewhere. As of 2009, production has began by producer Belle Avery (Apelles Entertainment) with Alten writing the screenplay.
On April 14th, 2016, various media outlets reported that action star Jason Statham would be taking the lead role of Jonas Taylor.
Ad blocker interference detected!
Wikia is a free-to-use site that makes money from advertising. We have a modified experience for viewers using ad blockers

Wikia is not accessible if you've made further modifications. Remove the custom ad blocker rule(s) and the page will load as expected.