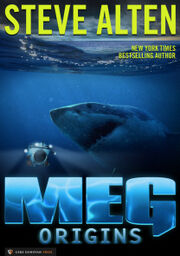 Meg: Origins is a prequel to the main plot of the Meg Saga. It follows Jonas Taylor before he released the Meg from the Mariana Trench. It shows what happened back when he thought he saw the Meg while on a trench dive and accidentally caused two of the men aboard to die. The book is available for .99 cents on all E-books and is currently only available in E-book format.
Ad blocker interference detected!
Wikia is a free-to-use site that makes money from advertising. We have a modified experience for viewers using ad blockers

Wikia is not accessible if you've made further modifications. Remove the custom ad blocker rule(s) and the page will load as expected.